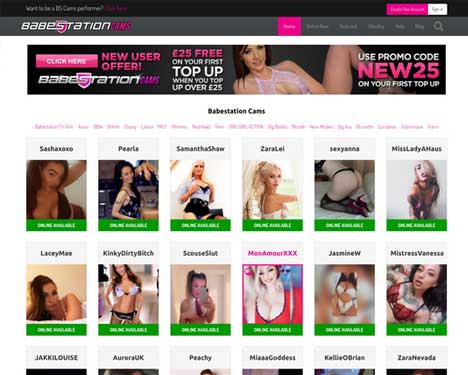 Babestation Cams
4.7





Have you had a busy week and want to relax a bit? Don't feel like leaving home, but do you need some erotic entertainment? Do you enjoy visiting cam sites in your free time and spoiling yourself with exciting cam shows? No worries. Babestation Cams brings all erotic entertainment straight to your living room. Through this cam site you can enjoy all the sexy horny women who know better than anyone how to give you a super sexy cam show. The many success stories don't lie, the users don't get enough of the cam shows and keep coming back to enjoy another sexy cam girl show. As soon as you are on the homepage of the site you will immediately see an overview with featured profiles of interesting performers. You can go through the profiles and see for yourself whether this site is for you. BabestationCams offers camgirls in the categories Asian, BBW, British ebony, latina, MILF, Mistress, Red head, Teen girl, New Models, Big Ass, Brunette, European, Submissive, Trans and much more. Does this also seem interesting to you? Then visit BabestationCams today and enjoy the most exciting and sexy cam shows to the fullest.
Do I need an account to use the site's services?
In order to get an idea of the services the site offers, you do not need an account in the first instance. Once you are on the homepage of the site you will see at a glance some featured profiles of interesting cam girls. You can go through the profiles and click on your favorite cam girl. Once you have clicked on the profile, a new web page will appear where you can view information of your favorite performer. You will then find out how old she is, what her name is, what her specialty is, and you will also see some explicit photos. However, in order to continue to use the services of the site, it is important to register.
All new members can sign up for free on Babestation Cams and the sign up process itself is quick and easy. You can sign up by clicking the "Create Free Account" tab on the home page of the site. Once you have clicked on this tab, an online registration form will appear in which you can enter a working e-mail address, username of your choice, and password of your choice. After having processed all the data, you can safely click on the tab 'create account'. After this, a registration link is automatically sent to the specified e-mail address to confirm the registration. After successfully completing the registration process you can immediately start finding interesting performers and of course enjoy their dazzling cam shows.
Help! I forgot my password
It may happen that you want to log in and you suddenly get the message that the combination of your username and password is not correct. At some point you will no longer know what your password is. You try to figure it out, but the correct password just doesn't get in your head. Don't worry, the administrators of the site have also devised a system to retrieve your password especially for these kinds of cases. If you have lost your password, you can click on the 'forgot your password?' tab. A new web page will appear where you can enter your e-mail address. After clicking on next, a password reset link will be sent directly to the specified e-mail address. In some cases it can take a few minutes before you receive the link, so you don't have to panic immediately. It is also wise to check your spam / junk mailbox if you have been waiting for a while and there is still no email. So you do not have to worry at all if you suddenly lost your password, you can safely use the password recovery option of the site.
Is the Babestation Cams site safe and reliable?
Anyone can safely use the services of this cam site. The administrators of the site have ensured that you can use a safe and discreet online platform and that you can exchange messages with your favorite performer without any worries and of course enjoy the many cam shows they have to offer. Also the data and or personal information of users are never resold to third parties or used for other purposes than for the proper functioning of the various functionalities of the site.
Is this cam site also mobile compatible?
Babestation Cams is a dating site which is mobile compatible, which means that you can access the site via your mobile as well as via your desktop, laptop and tablet. So you don't have to take a special place behind your desktop to enjoy a cam show. Whenever you want, where you want and how long you want, you can use the various services of the site. Do you happen to have a free hour or are you horny and do you need some erotic entertainment? Then you can enjoy the most interesting cam shows from this site from the living room, your terrace or in the yard via your mobile.
How can I reach the customer service of Babestation Cams?
If you have any questions or comments regarding the use of the site's services or do you notice that you are dealing with some technical issues? Then you can go through the list of frequently asked questions first. If you do not see a solution or answer to your question, please feel free to contact customer service by sending an e-mail to cs@babestationcams.com or by calling 0333 335 0299. Opening hours are from 9 am-6pm and from Monday to Friday.In either case, the site's customer service will try to provide you with the best possible service and answer all questions correctly and to your liking. Join Babestationcams today and enjoy the sexiest cam shows by the most interesting cam girls.