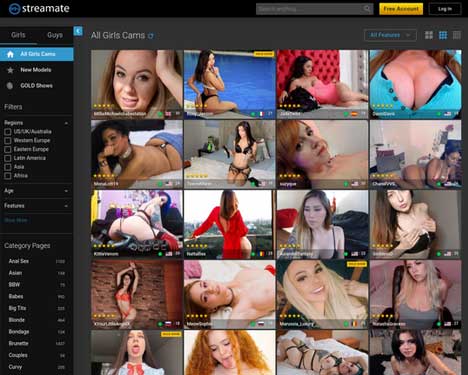 Streamate
4.9





Streamate is the ultimate cam site specially developed for all adult men and women looking for erotic entertainment. Are you a fan of cam shows? Do you find it interesting to see hot men and / or women stripping on your screen, or is it exciting to see the men or women stripping their clothes on the cam site, satisfying themselves or having sex? ? Then Streamate is the right place for you. On this site you will not get enough of the hot men and women who find it exciting to entertain you with their cam shows. Does this also seem interesting to you? Then visit Streamate today and enjoy the hottest and sexiest performers and their cam shows.
How can I create a free account?
You do not need an account to have an idea of ​​what to expect on the site. Once you are on the homepage of the site you will see an overview of the featured profiles of all sexy women and men on this site. If you have found an interesting performer among the featured profiles, feel free to click on his or her profile. After having clicked on their profile, a new web page will appear on which you can see the performer live, where you can give Gold as a tip, where you can ask the performer for a private show and where you can chat with your favorite performer. Based on this, you then have an idea of ​​what to expect on this site. You can then decide for yourself whether you want to create an account or rather not. It is entirely up to you whether you become a member of this site or not, it is certain that you will find the hottest men and women on this site making it very difficult to resist the temptation and not to register as a member .
Do you decide to become a member of this site, but don't know how? Registering on this exciting cam site is anything but difficult and completely free. To register you can click on the "free account" tab on the site's homepage. A new web page will appear in which you can enter information such as working e-mail address, username and password. After having processed all the information, you can click on the following button. After completing the registration process and confirming the registration, you can immediately start finding your interesting performers and of course enjoy their sparkling sexy shows.
Streamate Gold and Gold Shows
On Streamate you have the option to purchase GOLD. Gold is the site currency that you can send to a performer at any time. One GOLD equals one US dollar. If you like how a performer interacts with you, giving GOLD is a great way to show your appreciation. With Gold in your possession you also have the opportunity to participate in Gold shows. These are special group shows in which multiple members can participate. The performer determines the length, purpose and base price of the GOLD show. If you are interested, contribute in GOLD during the countdown to the show so that you can participate from the moment the show starts. You will not be charged if the performer cancels the show before it starts or while it is in progress.
I want to use the cam 2 cam option
Of course Streamate members have the option to use the cam 2 cam option. This option allows you to share your video with the performer during private sessions. If you're having trouble opening your camera or microphone, the solution will depend on what you see when you click on the Cam2Cam button. If you see the video appear, but disappear within 15 seconds of clicking the button, the performer missed or denied your cam 2 cam request. To avoid this in the future, you can ask the performer next time if she will accept your Cam2Cam request before sending it.
What does daily limit mean?
All Streamate members receive a daily video chat limit on this site. Once you reach your limit, the chat you are currently in will be closed and you will not be able to spend on the site until the next day. You can lower your daily limit (to $ 25) if you want to limit the time you spend on each chat session. The daily limit may eventually increase, but you can also contact Customer Service (supportteam@Streamate.com) about setting a higher limit. Customer Service will send you instructions on how to submit a request. One of the employees will assess and answer your request.
Is the site safe and reliable?
It can be stated with all certainty that the site is safe and reliable. Streamate uses SSL (Secure Sockets Layer) to protect your payment details every time you visit the website. Only trained Streamate employees have access to your account information. Performers do not have access to your account or payment information and your information will not be sold, traded or released to third parties. To better protect your privacy, it is advisable not to include parts of your email address in your nickname. Streamate employees will never ask you for your credit card information in a chat room.
How can I contact the customer service of streamate?
If you have any questions or comments, feel free to contact Streamate customer service. You can contact the employees by clicking on the "contact us" tab on the home page of the site. You will then have the opportunity to choose live support, support via whatsapp, e-mail and you can also consult the most frequently asked questions. On the same page you will also see a number of phone numbers with Streamate's customer service departments in each country where the site is operational. Enjoy a wonderful show by one of the Streamate performers today.
Is Streamate Safe?

Streamate may not be one of the most recognized adult entertainment portals out there, but there's a reason why it's gradually becoming a sensible option. If you haven't explored the site, then you're missing out on something special. read more