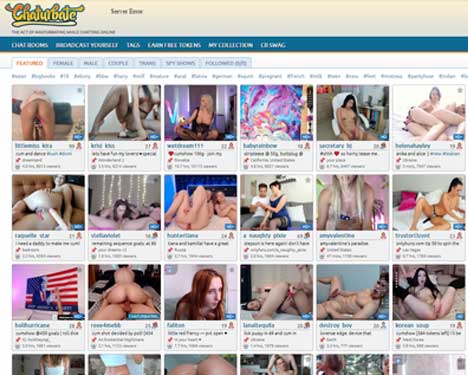 Chaturbate
4.7





You go on the internet, you search for an interesting cam site and you enjoy the interesting cam shows that are presented to you where the performers take off their clothes, satisfy themselves and possibly have sex with a partner. Does this description suit you perfectly and are you a cam show lover? Then you should definitely go to Chaturbate. This interesting cam site is specially developed for all adult men, women, couples, gays and shemales. There is something for everyone on this interesting cam site. Not only do you get the opportunity to chat with your favorite performer, but you can also enjoy their cam shows where they take off their clothes, satisfy themselves and have sex with other men and women. You are also at the right place for group sex shows or group cam shows. Does this seem interesting to you and do you want to enjoy the cam show of your favorite performer today? Then visit Chaturbate today.
How can I enjoy the many cam shows on this site?
You have the possibility to use the services of this cam site as a guest, but also as a registered member. As a guest you do not have to register on the site. Once you are on the site, you will immediately see an overview of featured profiles of not only performers, but also those of men, women, couples and transgender people. You can look through the profiles and click on the profile of your most favorite performer. A new web page will pop up where you can see your favorite model live, you can enjoy a possible cam show for free, chat with her and more. However, not all shows are completely free. You may get a taste, but for the more explicit sexy shows it is still important that you register on this cam site. Fortunately, you can register for free on Chaturbate.
You can register on this cam site by clicking the "Register" tab on the home page. A new web page will appear in which you can enter your username, password, working e-mail address, date of birth and your gender. After confirming that you are not a robot and accepting the terms and conditions, you can click on the 'create a free profile' tab. After having clicked on this tab you can immediately start finding your favorite performers and of course enjoy their exciting cam shows.
How can I register for the suporter membership?
On Chaturbate you also have the possibility to register for the supporter membership. A supporter membership is great to have. It provides you the ability to private message other users, gives you a clean interface with no advertisements, and you can use special text features in chat rooms. As a bonus, upon purchase of a supporter account you get 200 free tokens (a $ 20.99 value). The Supporter membership costs only $ 19.95 USD monthly.
If you'd like to cancel a supporter membership, you can easily manage your memberships by clicking "My Profile" on the top right of the site, and then going to the "Memberships" tab. Upon cancellation you'll receive a confirmation email along with the date your upgraded access will end.
How to become a member of a fan club?
On Chaturbate most of the performers have a fan club. You have the possibility to subscribe to your favorite broadcasters fan club. As a fan club member, you will be seen with a green username in the chat, and you will receive access to your favorite broadcaster's Fan Club Exclusive Content. There is no limit to how many fan clubs you can join. To easily cancel a fan club, click "My Profile" on the top right of the site, and then go to the "Memberships" tab.
Can I also access the site via my mobile?
Not everyone likes to access the site from behind a desktop. Fortunately, this cam site is mobile compatible, which means that you can access the site via your desktop, mobile, laptop and tablet. So you no longer have to be specially behind your desktop to enjoy the exciting cam shows. You can just stay in bed, from the living room, wherever you want to go to the Chaturbate site via your mobile. Nice and convenient and accessible to everyone.
What are the costs?
Anyone can register for free on this site. There are no hidden costs associated with your registration on this site. Even if you want to view the profiles of the users and their shows, you can enjoy the erotic entertainment for free. However, you have to pay for certain cam shows or if you request a private show from your favorite performer. Even if you want to send a tip for your favorite performer, there are minimal costs involved. You can do your payments on this site with tokens. The tokens can be purchased in token bundles for a minimal fee. The prices of the token bundles are as follows:
100 tokens for $ 10.99
200 tokens for $ 20.99 (5% Bonus)
500 tokens for $ 44.99 (22% Bonus)
750 tokens for $ 62.99 (31% Bonus)
1000 tokens for $ 79.99 (37% Bonus)
1255 tokens for $ 99.99 (38% Bonus)
2025 tokens for $ 159.99 (39% Bonus)
If purchasing tokens via wire, check or money order, you may buy any amount over $ 159.99 which will be credited at $ 0.08 per token. For instance, a $ 350.00 purchase would just you 4,375 tokens.
I still have some questions
If you have any questions or comments regarding the cam site's services, please review the list of frequently asked questions first. If you have not found an answer to your question, you are free to contact the Chaturbate customer service by sending an email to support@chaturbate.com. The customer service employees try to answer all your questions satisfactorily and of course as quickly as possible. Visit Chaturbate today and enjoy the dazzling erotic cam shows of the performers on this site.