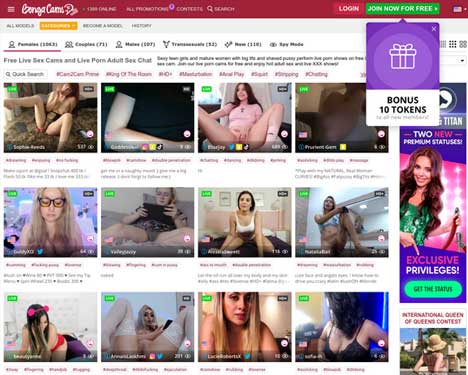 Bongacams
4.7





BongaCams is specially developed for all men and women, who like to enjoy erotic entertainment. Do you want to see women squirt live, strip, have anal sex, have sex chat with unknown sexy women and see them dance erotically? Then you've come to the right place at BongaCams. The women also get their money's worth on this site. The female members can enjoy the hottest men on BongaCams who are flirting, masturbating and can only keep you hooked with their sexy strip shows. The gays and shemales have also been thought of. For shemales lovers, there are also special shemale cams on this site where you can watch shemales strip, dance, flirt, have sex and much more. Does this seem interesting to you and do you want to enjoy stripping men, women, couples and / or shemales? Then you should definitely visit BongaCams for all your erotic pleasures. Who knows, you may find a favorite perfomer today, who can spoil you with a sexy cam show and much more. The performers of this site know better than anyone how to spoil you, that you can't get enough of them and want to keep coming to this site to enjoy them.
Do I need an account for this cam site?
Cam enthusiasts do not initially need an account to get acquainted with the site. Once you are on the homepage of the site you will see an overview of featured profiles of the BongaCams performers. You can choose the recommended profiles, profiles of men, women, couples and shemales. You can go through the profiles and click on the profile of your favorite performer or the performer that seems interesting to you. After having clicked on the profile, a new webpage will appear where you can see your favorite performer live in action. You also see the possibility in the online window of the performer to chat with the perfomer, which messages other users have sent to the performer, the possibility to participate in a group chat or private chat and you can also send tips for this performer. So you don't need an account right away to get an idea of ​​what to expect on BongaCams.
If you think BongaCams is interesting and you want to use multiple functionalities of the site, it is useful to create an account. Fortunately, creating an account is completely free and takes only seconds of your precious time. You can create a free account on the site by clicking on the "Join now for free" tab on the home page at the top right. After clicking on this, a new web page will appear with a registration form in which you can enter your username of your choice, password of your choice and any promo code. After confirming that you are over 18 years old, you can click on the 'create FREE account' tab. After this, you can get started right away on the site by finding your favorite performers and enjoying their exciting sexy cam shows. As a new user on the site, you are also eligible for ten free tokens. Enough reason to create a free BongaCams account today and enjoy all the erotic entertainment.
Can I also access the BongaCams website via my mobile?
BongaCams can be watched on your mobile browser just as well as on your laptop or PC, just type in bongacams.com on your smartphone and wait for the website to load. You can then enjoy the live BongaCams models' performances anywhere you go as long as you have Internet connection. So as soon as you have a free moment and want to enjoy some erotic entertainment, you can safely access the website via, for example, your mobile.
What are the costs on this site?
There are absolutely no costs associated with your registration on this site. Everyone can register for free and quickly. So you do not have to worry that you will suddenly see hidden costs on your account. The only things that cost money on this site are tokens used for private, group, and spy shows as well as tips. The tokens are sold in token bundles. It is good to know that the discount on the price of the tokens increases with the purchase of a larger number of tokens. The prices of the token bundles are as follows:
26 Tokens for 1.99 € (~ 0.08 € per token)
76 Tokens for 4.99 € (~ 0.07 € per token)
156 Tokens for 9.99 € (~ 0.06 € per token)
462 Tokens for 24.99 € (~ 0.05 € per token)
984 Tokens for 49.99 € (~ 0.05 € per token)
1260 Tokens for 65.00 € (~ 0.05 € per token)
1480 Tokens for 74.99 € (~ 0.05 € per token)
10160 Tokens for 500.00 € (~ 0.05 € per token)
20000 Tokens for 990.00 € (~ 0.05 € per token)
50800 Tokens for 2,500.00 € (~ 0.05 € per token)
Once you have tokens on your account, you can take model to a private show or if the model is in a private show already, you can spy on it using our Voyeur Show feature. You can also initiate or join a group show or send the model a tip. Private shows cost 60 tokens per minute. That means that if you want to stay in private for five minutes, you will need 300 tokens. Voyeur shows cost one-fourth of a private show, or 15 tokens per minute. That means that if the model is in private for five minutes and you are spying on her show the whole time, it will cost you 75 tokens.
How can I contact the BongaCams helpdesk?
If you have any questions or comments, feel free to contact BongaCams customer service by clicking the "contact support" tab on the home page at the bottom of the page. You can then use the option to chat with customer service, send an email by filling out the online contact form or by calling the telephone number (+372) 51 57 177. In all cases, customer service will try to provide the best possible service.