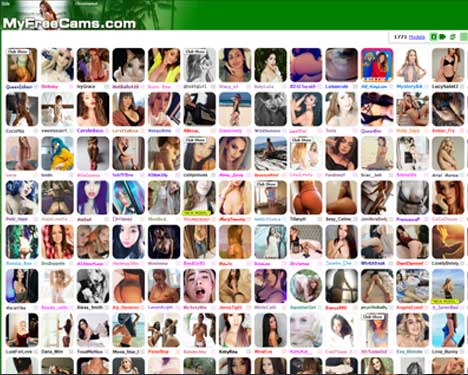 MyFreeCams
4.6





Have you had a busy week and want to relax a bit? Don't feel like leaving home, but do you need some erotic entertainment? No worries. My Free Cams brings all erotic entertainment straight to your living room. Through this cam site you can enjoy all the sexy horny women who know better than anyone how to give you a super sexy cam show. The many success stories don't lie, the users don't get enough of the cam shows and keep coming back to enjoy another cam show. As soon as you are on the homepage of the site you will immediately see an overview with featured profiles of interesting performers. You can go through the profiles and see for yourself whether this site is for you. Does this also seem interesting to you? Visit My Free Cams today and enjoy the overwhelming cam shows of the various performers of this site.
Do I need an account to enjoy the cam shows?
On My Free Cams you have the option to visit the site as a guest or as a member. You do not necessarily need an account to get acquainted with the various functionalities and services of the site. Once you're on the site's homepage, you'll see some featured profiles of sexy performers. You can search the profiles and click on the profile of your favorite user. After clicking this, a new web page will appear where you can see your favorite model live and where you can also chat with her. If you do not have an account yet, this is the way to get acquainted with the site and to see if this is something for you.
If you absolutely love the site and would like to use the services of My Free Cams, you can register on this site completely free of charge. To register you can click on the Create a Free Account tab. A new webpage will occur in which you can fill in your chosen username (chat name), password, and working e-mail address where you will receive your verification link and account information . Once you complete your registration, your account is free for life and you can come back any time and use it for free. As a Basic Member, you will be able to chat with more models and members, and you will have access to more website features.
I want to upgrade my account to the Premium Membership
With a free My Free Cams account, however, you have limited access to the various functionalities of the site. Do you want to make full use of the site's services? Then you can sign up for the My Free Cams premium membership. When you purchase tokens the first time, you will automatically become a Premium Member for life. There are no additional fees or future charges. Premium Members get full unlimited access to all of the features of MyFreeCams.com forever, even if they never purchase tokens again. Very cheap and easy on My Free Cams.
Do you also want to get reward points?
For every ten tokens you purchase on My Free Cams, you will receive one Reward Point. As you get more Reward Points, certain options and features on the website will become available to your account, and you will be assisted with priority for any issue that may come up. Models are able to see your Reward Point total unless you hide it in your "My Account" privacy settings. Your Reward Points never expire and never get used up. Reward Points cannot be transferred to any other username, even if it belongs to you. So purchase tokens now and gain enough reward points.
What is the difference between a group show and a club show?
On My Free cams you have the opportunity to participate in group shows and club shows. What is the difference, anyway? A Group Show is like a private show, but where other members may join at any time. You can click on the Group Show tab to initiate or join a Group Show request. Once at least three members are requesting a Group Show, the model will be invited to accept the Group Show. If she accepts, the Group Show will start. Members can join and leave at any time. The Group Show ends when either the last member leaves or the model chooses to end it. While in a Group Show, members are charged only ten tokens per minute, or one token every six seconds. This is a very low price (half the price of even a voyeur show), which is why members are encouraged to Tip the models in Group Shows, especially for personal requests. The site does not require members to tip a certain amount, but rather leaves this entirely up to the model.
A Club Show is like a Group Show, except it doesn't cost any tokens per minute, but you have to be a member of that model's Club on her MFC Share in order to be able to enter the room and watch the show. For any Club Show, the model can specify which of her MFC Share Club (s) get access. Once you join one of those Clubs, you will have instant access to the show.
Contact details
If you have any questions or comments regarding the cam site's services, feel free to contact My Free Cams customer service. You can contact the helpdesk by clicking the "contact support" tab on the home page of the site. After clicking on this, an overview will appear with frequently asked questions. If you have not found an answer to your question, you can send a message to customer service by filling in the online contact form. In this form you fill in what your e-mail address, username and message is. You can also email a message to the email address Members@myfreecamsmail.com. The helpdesk employees try to answer all questions as quickly as possible.